IN THE STUDIO AND ELSEWHERE
COPYRIGHT
© 2011 Lori Ann LaBerge. All rights reserved. Unless noted, all artwork, photos and text are copyrighted by the artist. Images may not be reproduced, manipulated or used in any way without the written permission of the artist.
CONTACT
If you would like to send me a comment or have any questions, please e-mail me at lorilaberge@gmail.com. Thank you and I look forward to hearing from you.
CURRENT PROJECTS
I will be starting a new mixed media series based on the nomadic experience with a focus on rug motifs and migration. Sketches are in progress.
LINKS
Carolina Designer Craftsmen Guild
Studio Items I Love
Work and Play–Christmas Party
Nomadic Series Begins
"Southern Flight" and Mixed Media
Carolina Designer Craftsmen 2011
Show Packing and "Woodland Tango"
Architectural Salvage
Carolina Designer Craftsmen Show
Landscapes with Barns
Back to Small Landscapes
Exhibit Set-Up in Gallery
Show Preparation Part III - Packing
Audience Participation
Exhibition Booklet, Platform Building
N.C. Arts Incubator in Siler City
Show Preparation Part II
Show Preparation Part I
"Stacked" Completed, "Lakehouse" Juried In
"Stacked" Continued
Floor Runner "Stacked" in Progress
View Inspires "Sunset in Rose"
Exhibit Postcard and Tiffany
Mixed Media Rug Hooking
"Birches II" and Robert Frost
"Lakeside Completed, Weekend Off!
Road Trip Photo Inspiration
"Walking the Tracks" Completed
Inspiration on Cades Cove Trip
Walkthrough of Studio Tour
Studio Tour Exhibit at TRAC
More Finishing Work
Studio Tour Preparation Started
Hooking Done, A Week of Finishing
Mother's Day–Off the Beaten Path
Decorating with Hooked Art
A Week of Hooking and Painting
The Isabella Stewart Gardner Museum
Birches and My Stripe Obsession
Architectural Pieces Delivered
"Walking the Tracks" in progress
Blue Mountains in Spring
Georgia O'Keeffe on the Nightstand
A Scale Model of Future Exhibit
Texture: Combining Yarn and Wool
Using Photographs as Inspiration
Modern Rugs, Traditional Techniques
Fiber in the Family
Shuttle, Spindle & Dyepot Magazine






ARCHITECTURAL PIECES DELIVERED
I received an e-mail to deliver more work for the spring season, packed up two new pieces and hopped in the car with my husband to make the scenic drive over to MoonStar Gallery in Foscoe, NC. MoonStar is a joy to work with and we usually spend quite a bit of time visiting with the owner when making an art delivery. As a bonus, I had finally found frames which worked really well with the pieces.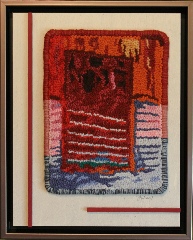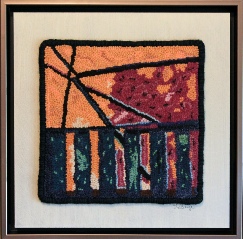 "Fall Barn Shadows" Lori LaBerge 2011
"Rhododendron Sky" Lori LaBerge 2011
Interest in creating a new series of abstract architectural work began while working on a series of striped work for an upcoming October show. The old deserted sheds, barns and outbuildings of rural North Carolina intrigued me along with bridges and towers. I thought of the history behind them. Who had once taken care of these structures? Would they be preserved or torn down? There is always so much to learn about an area.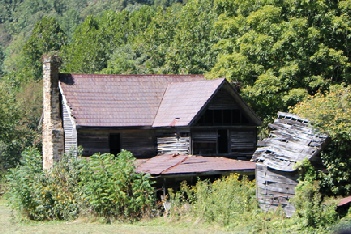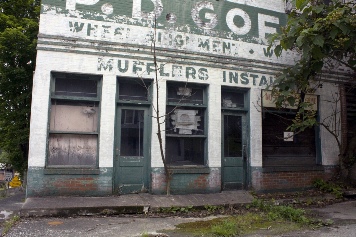 For now, I am enjoying taking rides and photographing my surroundings to use as reference for future work, be it nature, stripes or architecture. Enjoy investigating your surroundings, think about the history behind them and have a great day!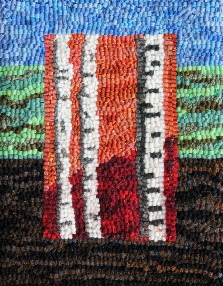 "Birches" Lori LaBerge 2011
I have been using stripes in my work in one form or another since 1996 and "Birches" is no exception. Never tiring of stripes, I tend to see them everywhere. They are in railings, rail tracks, flooring, freshly plowed fields, ripples on the water, and so many other places. There are full stripes and those that are cut off. They can be wide or narrow, single or multiple. Their history is fascinating.
Medieval society believed the stripe to be associated with the devil. The medieval period of art shows jugglers, prostitutes, disloyal individuals and others who were frowned upon garbed in stripes. Many of us today can recall photos of gangsters wearing widely striped suits and prisoners in striped uniforms.
Somewhere along the way things changed and stripes became a symbol of freedom. Many flags include stripes as part of their design. Stripes became more colorful and often had a feeling of fun attached to them. We now see the stripe quite often in clothing and home decor. Exactly when and why the meaning changed may never be completely pinned down, but Michel Pastoureau's book "The Devil's Cloth: A History of Stripes is an excellent resource on this subject.
I'm off to Boston for the week and will report on my trip when I return. Have a great day!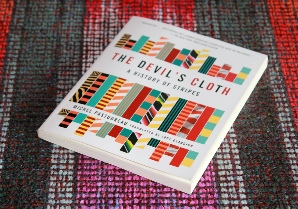 THE ISABELLA STEWART GARDNER MUSEUM
When I knew we were headed to Boston my first decision was to plan a trip to the Isabella Stewart Gardner Museum. Rain and lost luggage were a rough start for the trip, but we persevered and enjoyed mouthwatering food, friendly people and amazing artwork.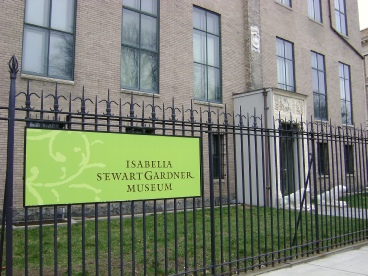 My only real knowledge of the museum was the art heist in 1990. Rembrandts, a Matisse, a Turner, a Vermeer and other precious works were stolen and have yet to be recovered. It is a bit eerie to see the empty frames on the walls where the work was once displayed. If you are interested in more about the theft I would recommend "The Gardner Heist" by Ulrich Boser. It is a quick read and a fascinating look at the world of trying to solve art crimes.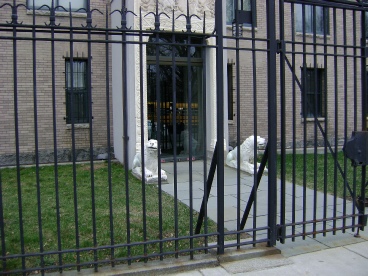 I was surprised by the amount of textiles Mrs. Gardner had collected. On view are a series of tapestries from the 1500's on Cyrus, legendary founder of the Persian Empire. One tapestry that intrigued me was of Amazon's preparing for a jousting match. Click here to view the tapestry. The sleeves and crowns of the women come alive with depth. A set of copes, semi circular cloaks worn by priests, is framed under glass as are parts of a collection of silk and velvet fabrics from as early as the 1500's. So much for a fiber artist to take in!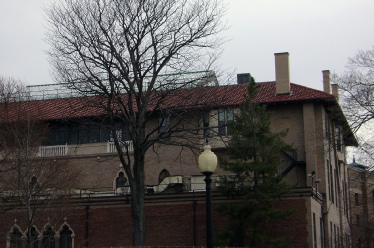 The museum does not allow photography inside or in the covered courtyard. You may check out their website at www.gardnermuseum.org. Have a great day!

A WEEK OF HOOKING AND PAINTING
I am excited about working on some smaller hooked pieces for the Studio Tour June 10-12. These are 4 X 6 landscapes matted and framed to an 8 X 10 size. While there will be larger sizes in the studio, it is always nice to have some smaller work available. The pieces revolve around trees and are hooked with both hand-dyed wool fabric and yarn. One collector refers to them as "little gems", which describes them quite well. The one below was completed this week.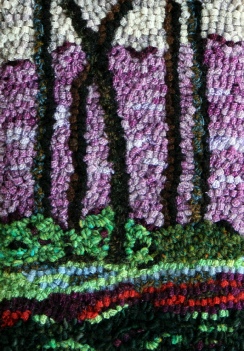 "Amethyst Duet" Lori LaBerge 2011
Earlier in the week a friend invited me to a meeting of the Blue Ridge Fine Arts Guild and I made my way over to Burnsville Monday night to join them. They are a friendly, talented group in the midst of planning an exhibit on Route 80 at the Spruce Pine TRAC gallery in August. A landscape painting demonstration by John Houglum was the focus of the meeting and we learned about color mixing, the importance of keeping both brushes and palette clean, soft edges and other tricks of the trade.
I have taken up painting in my spare time and look forward to attending more meetings with the members of the Guild. Below is an 8 X 10 acrylic with an architectural focus completed this past week.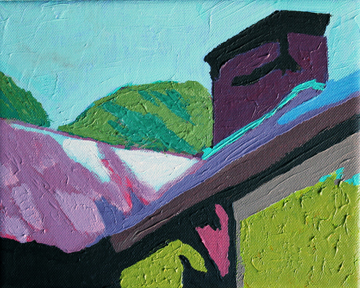 "Standing Strong" Lori LaBerge 2011
Take up something you've always wanted to do in your spare time and have a great day!