IN THE STUDIO AND ELSEWHERE
COPYRIGHT
© 2011 Lori Ann LaBerge. All rights reserved. Unless noted, all artwork, photos and text are copyrighted by the artist. Images may not be reproduced, manipulated or used in any way without the written permission of the artist.
CONTACT
If you would like to send me a comment or have any questions, please e-mail me at lorilaberge@gmail.com. Thank you and I look forward to hearing from you.
CURRENT PROJECTS
I will be starting a new mixed media series based on the nomadic experience with a focus on rug motifs and migration. Sketches are in progress.
LINKS
Carolina Designer Craftsmen Guild
Studio Items I Love
Work and Play–Christmas Party
Nomadic Series Begins
"Southern Flight" and Mixed Media
Carolina Designer Craftsmen 2011
Show Packing and "Woodland Tango"
Architectural Salvage
Carolina Designer Craftsmen Show
Landscapes with Barns
Back to Small Landscapes
Exhibit Set-Up in Gallery
Show Preparation Part III - Packing
Audience Participation
Exhibition Booklet, Platform Building
N.C. Arts Incubator in Siler City
Show Preparation Part II
Show Preparation Part I
"Stacked" Completed, "Lakehouse" Juried In
"Stacked" Continued
Floor Runner "Stacked" in Progress
View Inspires "Sunset in Rose"
Exhibit Postcard and Tiffany
Mixed Media Rug Hooking
"Birches II" and Robert Frost
"Lakeside Completed, Weekend Off!
Road Trip Photo Inspiration
"Walking the Tracks" Completed
Inspiration on Cades Cove Trip
Walkthrough of Studio Tour
Studio Tour Exhibit at TRAC
More Finishing Work
Studio Tour Preparation Started
Hooking Done, A Week of Finishing
Mother's Day–Off the Beaten Path
Decorating with Hooked Art
A Week of Hooking and Painting
The Isabella Stewart Gardner Museum
Birches and My Stripe Obsession
Architectural Pieces Delivered
"Walking the Tracks" in progress
Blue Mountains in Spring
Georgia O'Keeffe on the Nightstand
A Scale Model of Future Exhibit
Texture: Combining Yarn and Wool
Using Photographs as Inspiration
Modern Rugs, Traditional Techniques
Fiber in the Family
Shuttle, Spindle & Dyepot Magazine






CAROLINA DESIGNER CRAFTSMEN SHOW
The cool air is hitting the mountains and the beautiful autumn color is just beginning to fade. I finished two autumn pieces this past week in preparation for the Carolina Designer Craftsmen show. These small landscapes do well at the show and will be shown alongside my striped and crow pieces.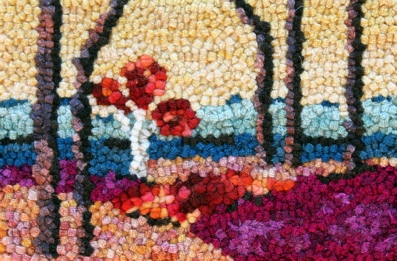 "Autumn Solo" Lori LaBerge 2011
"Autumn Blue" Lori LaBerge 2011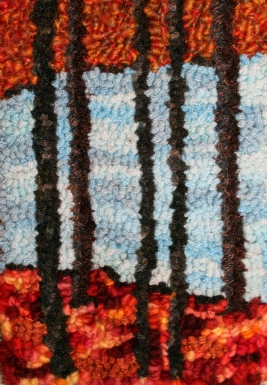 The show will be held in the Exhibition Center at the Raleigh, NC Fairgrounds. The hours are Friday, November 25 from 6-9 pm, Saturday, November 26 from 10 am-6 pm and Sunday, November 27 from 11am-5 pm. Save the holiday weekend, join all the artists for a wonderful time (I'll be in Booth E-3), and have a great week.

ARCHITECTURAL SALVAGE
It's getting close to the Carolina Designer Craftsmen Guild show in Raleigh over Thanksgiving weekend. I've been working hard preparing for the show and all that is left is some framing, paperwork (making price labels, etc.) and packing, so I decided to take a break for a couple of days.
What did I do? I started planning out a mixed media piece. It will be along the lines of "Lakehouse". Designing and planning out colors to put things together are two of my favorite parts of working in mixed media. Below is a photo of the colors I have chosen. The placement of the colors may change as the work moves along. I rarely stick to a definite plan.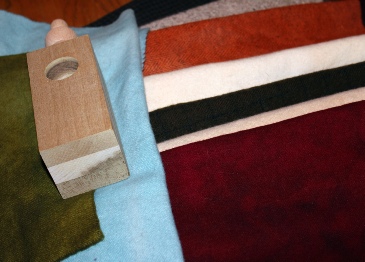 My husband and I stopped at Architectural Salvage of Greensboro and had a great time looking at old doors, fireplace mantels, windows, and wood trims. My favorite part was searching through all the old door plates, locks, and hinges. I can't wait to use some of the pieces below with the above fabrics.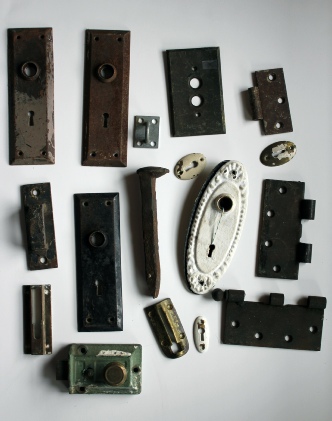 I really enjoyed this small break from show preparation. Treat yourself to a small break, do something you love and have a great day!

SHOW PACKING AND "WOODLAND TANGO"
It's an exciting time as the Carolina Designer Craftsmen Show begins Friday and continues through Sunday. This is a great venue to view some high-end work by talented craftspeople. Set-up for exhibitors begins on Wednesday, so it will be a busy time.
This has been a week for boxing, taping, organizing, steaming carpeting and making sure all the tools are ready to put up the walls for work to hang on. The trailer will be full. I always tend to overpack to make sure I have everything I might possibly need. The room outside the studio area is now officially a packing station.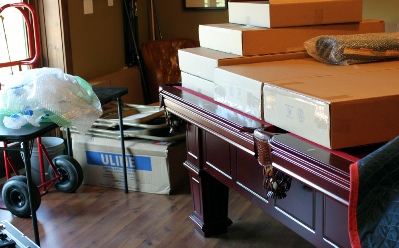 A few evenings were taken from packing to hook and frame "Woodland Tango" for the show. Time is just going too fast to complete any more pieces right now.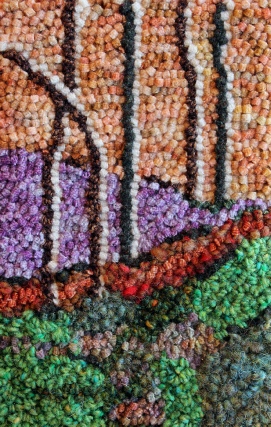 "Woodland Tango" Lori LaBerge 2011
There will be approximately 35 pieces available plus some fun little snowman pins. I'm starting to get into the holiday mood. Stop by the show, add some art to your holidays and have a great Thanksgiving weekend!

CAROLINA DESIGNER CRAFTSMEN 2011
I hope everyone had a great Thanksgiving Day weekend. The CDCG show was packed with unbelievable talent. It was a joy to meet friends I had not seen in years. The first person I looked up was Karen Poetzinger, who taught me how to hook! Karen is a wonderful friend and had some great pieces at the show. Please check out her website here. Some members of the Piedmont Rug Hookers Guild stopped by my booth to say hello. This is a great group of women who do terrific work. Thank you all.
The first order of business over the weekend was to set up the display booth. This takes about 3 1/2 hours and includes unloading, placing carpet, setting up walls, putting up lighting and displaying work. With approximately 100 artists setting up, the exhibition center becomes quite a busy place.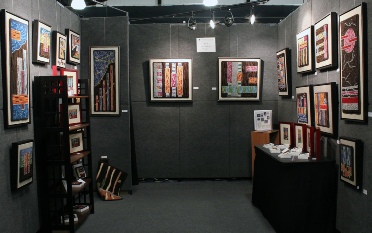 Here is the result. Up and ready for business.
People had a wonderful time visiting with artists and viewing all the craftwork on display.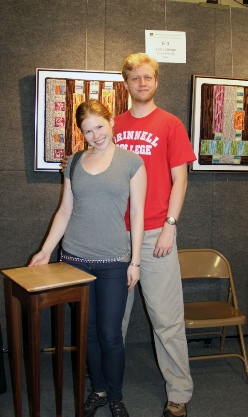 The CDCG holds a yearly raffle during their opening gala (be sure to purchase gala tickets for early admission, buffet, drinks and a chance to win some wonderful prizes). I purchased tickets as a gift for my daughter, Kami LaBerge, and her boyfriend. She was excited to find she had won a table by wood artist Bayley Wharton.
Below are photos of some pieces which found a new home this weekend.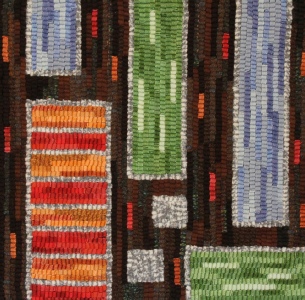 "Railyard 4" Lori LaBerge Part of the "The Stripe: Works Inspired by Rural North Carolina" solo exhibit.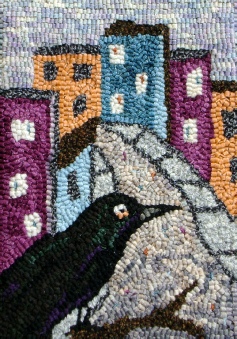 "House Hunting" Lori LaBerge .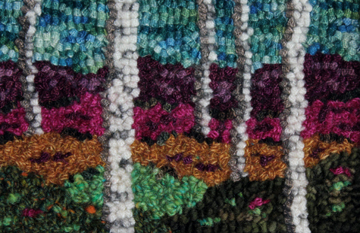 "Spring's Arrival" Lori LaBerge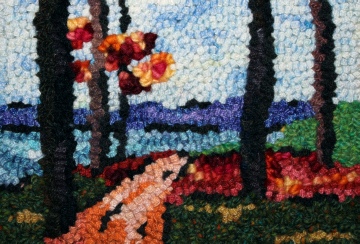 "Lake Path in Autumn" Lori LaBerge
Thank you to everyone who made this an exciting weekend for me. I appreciate your love of craft and hope all of you who purchased enjoy your new pieces for years to come. If you did not have a chance to attend the show, I hope you will have the opportunity to attend next year. Have a great day!