IN THE STUDIO AND ELSEWHERE
COPYRIGHT
© 2011 Lori Ann LaBerge. All rights reserved. Unless noted, all artwork, photos and text are copyrighted by the artist. Images may not be reproduced, manipulated or used in any way without the written permission of the artist.
CONTACT
If you would like to send me a comment or have any questions, please e-mail me at lorilaberge@gmail.com. Thank you and I look forward to hearing from you.
CURRENT PROJECTS
I will be starting a new mixed media series based on the nomadic experience with a focus on rug motifs and migration. Sketches are in progress.
LINKS
Carolina Designer Craftsmen Guild
Studio Items I Love
Work and Play–Christmas Party
Nomadic Series Begins
"Southern Flight" and Mixed Media
Carolina Designer Craftsmen 2011
Show Packing and "Woodland Tango"
Architectural Salvage
Carolina Designer Craftsmen Show
Landscapes with Barns
Back to Small Landscapes
Exhibit Set-Up in Gallery
Show Preparation Part III - Packing
Audience Participation
Exhibition Booklet, Platform Building
N.C. Arts Incubator in Siler City
Show Preparation Part II
Show Preparation Part I
"Stacked" Completed, "Lakehouse" Juried In
"Stacked" Continued
Floor Runner "Stacked" in Progress
View Inspires "Sunset in Rose"
Exhibit Postcard and Tiffany
Mixed Media Rug Hooking
"Birches II" and Robert Frost
"Lakeside Completed, Weekend Off!
Road Trip Photo Inspiration
"Walking the Tracks" Completed
Inspiration on Cades Cove Trip
Walkthrough of Studio Tour
Studio Tour Exhibit at TRAC
More Finishing Work
Studio Tour Preparation Started
Hooking Done, A Week of Finishing
Mother's Day–Off the Beaten Path
Decorating with Hooked Art
A Week of Hooking and Painting
The Isabella Stewart Gardner Museum
Birches and My Stripe Obsession
Architectural Pieces Delivered
"Walking the Tracks" in progress
Blue Mountains in Spring
Georgia O'Keeffe on the Nightstand
A Scale Model of Future Exhibit
Texture: Combining Yarn and Wool
Using Photographs as Inspiration
Modern Rugs, Traditional Techniques
Fiber in the Family
Shuttle, Spindle & Dyepot Magazine






SHOW PREPARATION PART I
Now that all the hooking is done for the October show, it is time to focus on finishing work, paper work, and publicity for the event. The past week included priming boards, ordering supplies for hanging pieces, a search for matching yarns, making decisions regarding presentation, and a trip to the gallery for final measurements.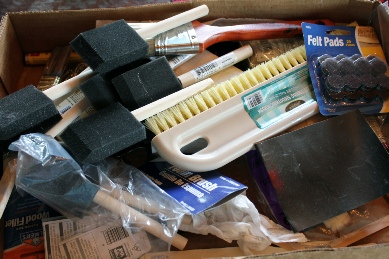 Sandpaper, brushes, wood filler and other supplies for preparing boards.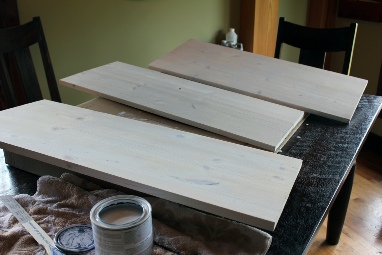 First coat of primer applied.
A box of 1000 postcards for the show, designed by Kami LaBerge, were received this week and the o.k. was given for a sample of the exhibition booklet to be printed before the final run. I'll photograph the booklet for the blog along with more information on it when it is received.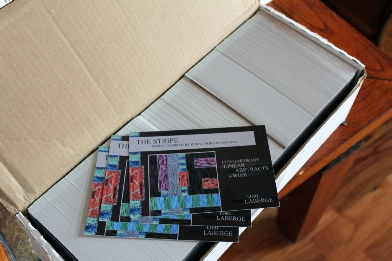 Yes, they all have to be labeled for delivery. May pop in a movie while I'm working on these!
A trip to Lowe's Home Improvement was in order to make decisions about creating a rug platform for the middle of the gallery where "Stacked" will be placed. Options were gone over and a decision was finally made to have the design mimic the pedestal design the gallery uses. The wood for the project will be picked up next week.
There is so much more involved in a show than creating the art. Next time you work on something, give yourself credit for all the behind the scenes work you did that no one thinks about and have a great day!

SHOW PREPARATION PART II
There is still quite a bit of work to do for the show. Here is what was done this week.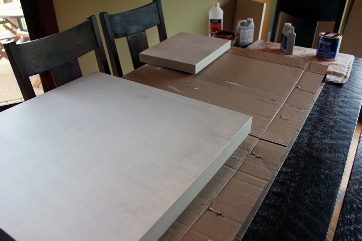 More art boards were primed, painted, glazed and sealed. There are still three left to go.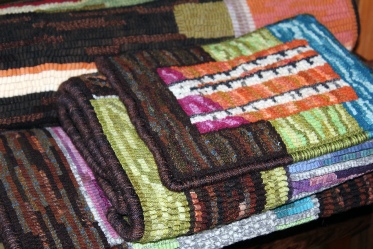 Work was piled up ready for mounting and framing.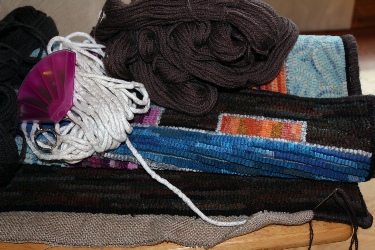 Work began on whipping the edges of "Walking the Tracks". There are two more pieces to whip edges on after this one.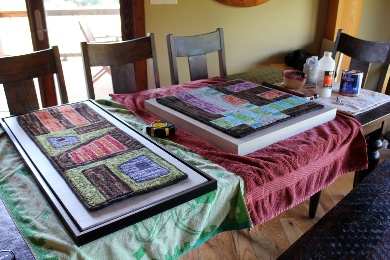 The studio table was covered with work, so the dining room table was dubbed the "framing table" for the week.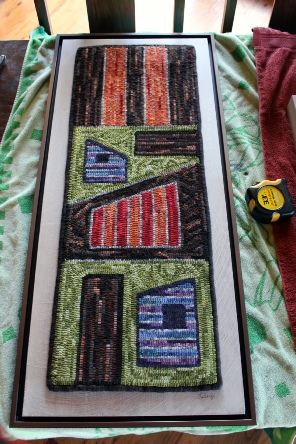 A lot of measuring was going on to center the framed pieces.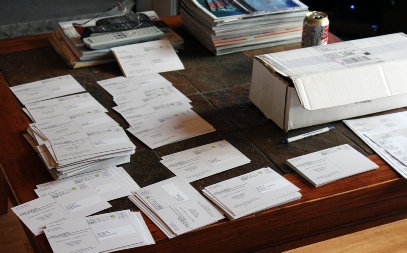 Postcards for the show were beginning to be addressed and organized.
It was a busy week and my husband gave me a breather by taking me out for a ride in the country and dinner. It felt great!
Give yourself a bit of a breather this week as a reward for your hard work and have a great day!

N.C. ARTS INCUBATOR IN SILER CITY
It is always great to visit friends and places that we hold dear. There will always be a special place in my heart for the N.C. Arts Incubator . This was where I had my first real studio, first worked in a gallery, had the first chance to jury in work and met a group of artists who were both inspirational and inviting. I left that studio behind and created a home studio when we moved to the mountains. On the way back from celebrating our 28th wedding anniversary, my husband and I stopped by the Incubator to say "hello".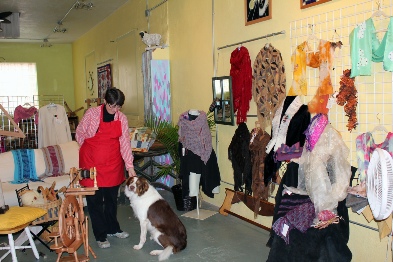 Our first stop in was to see Sue Szary at her shop "Against His Will". Sue has a way of making you feel right at home from the minute you enter the door. The shop has yarns, dyed scarves, and other textile treasures. You can get directions to her shop here.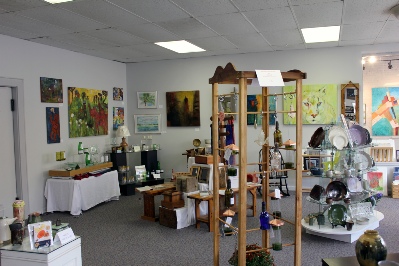 Next, we stopped at the Incubator gallery. The shop looked great and had a variety of paintings, glass work, wood work and other items available for purchase. It brought back memories of helping set up displays and working behind the counter.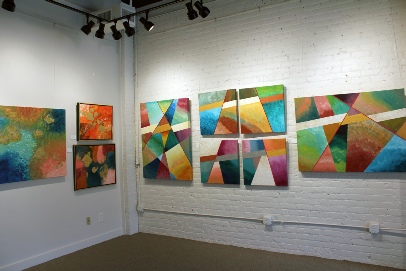 The PAF gallery at the Incubator had a show featuring the paintings of Allen L. Clapp on display. The paintings above were my favorite, full of vibrant color and texture. I love these works!!! I remember when Mary Helen Moody, also a painter, was first working on getting the PAF gallery set up. She has done a wonderful job and continues to bring in great artwork for the public to see.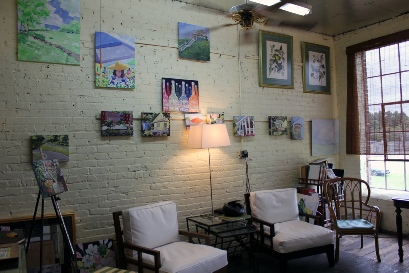 When we tried to enter the building of my old studio, the door was locked. We were lucky enough to run into Ricky Lindley, an artist (also a residential designer and interior decorator) who moved into the Incubator just as I had moved out. He graciously offered to unlock the doors to let us see my old stomping grounds. Ricky's studio in the building is pictured above. He had it set up beautifully, the walls covered in watercolors and the acrylics he is now working with. As is typical of artists at the Incubator, Ricky was a pleasure to converse with.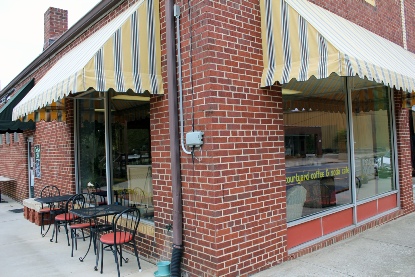 While visiting the Incubator, don't forget to stop by and see Joan at the coffee shop on the corner. She will serve you up one of the best smoothies around (mango is my favorite) and also has latte, cookies and brownies available for just the right pick me up to continue your tour of the local arts scene.
Along with what was shown here, you can stop by Sam Zinaich's stained glass shop to view his glasswork as well as C.J. Hart's jewelry. We purchased a lamp shade from Sam and he also created a glass insert for our German wall clock. Roger Person's gallery, Person to Person, should not be missed as you can see a true artist's imagination at work with his creative mixed media pieces. His wife, Linda, is artistic also. We have one of her horse sculptures just off our foyer. There are also potters, clay workers, guitar maker Terry McInturff and many others in this artist haven.
This was a great weekend getaway for us. Plan your own great getaway. Take the time to reconnect with some old friends, visit new places and have a great day!

EXHIBITION BOOKLET, PLATFORM BUILDING
The exhibition booklet "The Stripe: Works Inspired by Rural North Carolina" is in the final printing stages.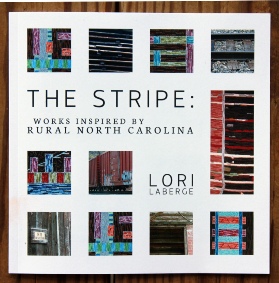 This has been a long process from taking photos of the area which provided inspiration to photographing works as they were completed to deciding on a design for the booklet to printing. The booklet was put together by my daughter, Kami LaBerge. I could not have done this without her. Her work experience has given her a good background for this type of project. She worked on the whole computer angle of putting this together. She also put together a great design, giving the viewer a real feel for how the pieces were developed.
The most difficult part of the process was color. It is hard to predict how color will come out in the print process and it is so important when showing artwork. We went through two sample booklets before final approval. I hope to have the booklet available at the show opening, October 14 from 5-7 at the Toe River Arts Council's Burnsville Gallery.
The second project was building a platform to show the floor piece I created. I want people to view it from above, though it could be mounted and framed to create a stunning wall piece if one wished. The platform will take it about 9 inches above the floor so people do not walk on it. Here is the process, which would have taken me forever if I did not have the help of my husband.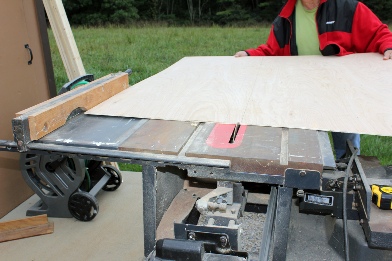 Measurements were taken and the table saw was brought out to cut the wood to size.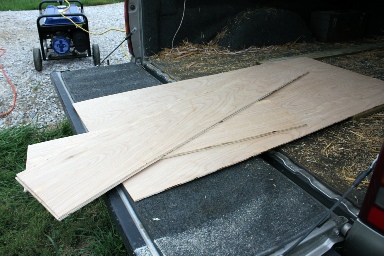 Pieces were piled up and waiting to be put together.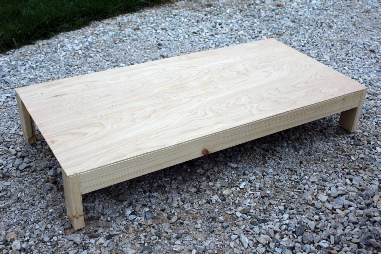 Here is the final piece. All that is left is to prime and paint!
I am lucky to have a family which supports my love of art. Take the time to thank those who help and support you in your endeavors and have a great day!