IN THE STUDIO AND ELSEWHERE
COPYRIGHT
© 2011 Lori Ann LaBerge. All rights reserved. Unless noted, all artwork, photos and text are copyrighted by the artist. Images may not be reproduced, manipulated or used in any way without the written permission of the artist.
CONTACT
If you would like to send me a comment or have any questions, please e-mail me at lorilaberge@gmail.com. Thank you and I look forward to hearing from you.
CURRENT PROJECTS
I will be starting a new mixed media series based on the nomadic experience with a focus on rug motifs and migration. Sketches are in progress.
LINKS
Carolina Designer Craftsmen Guild
Studio Items I Love
Work and Play–Christmas Party
Nomadic Series Begins
"Southern Flight" and Mixed Media
Carolina Designer Craftsmen 2011
Show Packing and "Woodland Tango"
Architectural Salvage
Carolina Designer Craftsmen Show
Landscapes with Barns
Back to Small Landscapes
Exhibit Set-Up in Gallery
Show Preparation Part III - Packing
Audience Participation
Exhibition Booklet, Platform Building
N.C. Arts Incubator in Siler City
Show Preparation Part II
Show Preparation Part I
"Stacked" Completed, "Lakehouse" Juried In
"Stacked" Continued
Floor Runner "Stacked" in Progress
View Inspires "Sunset in Rose"
Exhibit Postcard and Tiffany
Mixed Media Rug Hooking
"Birches II" and Robert Frost
"Lakeside Completed, Weekend Off!
Road Trip Photo Inspiration
"Walking the Tracks" Completed
Inspiration on Cades Cove Trip
Walkthrough of Studio Tour
Studio Tour Exhibit at TRAC
More Finishing Work
Studio Tour Preparation Started
Hooking Done, A Week of Finishing
Mother's Day–Off the Beaten Path
Decorating with Hooked Art
A Week of Hooking and Painting
The Isabella Stewart Gardner Museum
Birches and My Stripe Obsession
Architectural Pieces Delivered
"Walking the Tracks" in progress
Blue Mountains in Spring
Georgia O'Keeffe on the Nightstand
A Scale Model of Future Exhibit
Texture: Combining Yarn and Wool
Using Photographs as Inspiration
Modern Rugs, Traditional Techniques
Fiber in the Family
Shuttle, Spindle & Dyepot Magazine






DECORATING WITH HOOKED ART
Textiles add texture and softness to the decorating process and rug hooked work is certainly no exception. While most people tend to think of rug hooking as primarily for floors, the work is equally at home on the wall.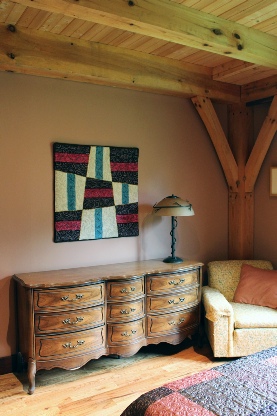 "Riverdance" adds color to the wall space over a dresser, taking the place of the traditional mirror.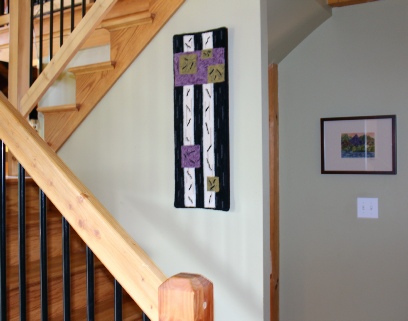 "Riverbridge" follows the vertical direction of the balusters in long stripes and the horizontal of the stair treads in a wide short stripe, flowing well with the stairway. A matted and framed piece in the background compliments without distracting from the stairway.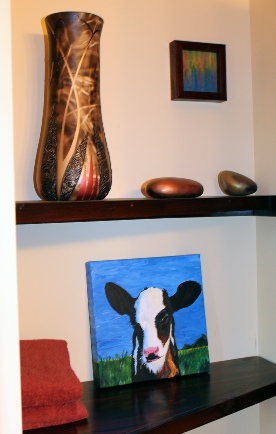 Treat your bathroom like any other room. In this case, a small hooked piece is placed with ceramic work and a painting. Combining different types and textures of art keeps things interesting.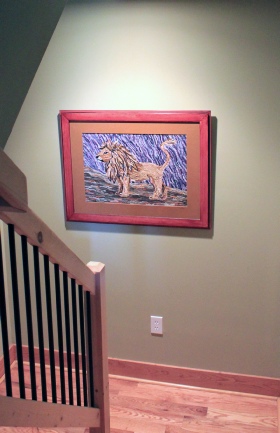 A landing on a stairway is the perfect spot to add eye appeal.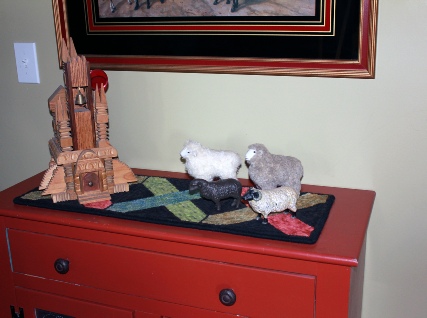 Hooked pieces make wonderful table runners, softening the effect of wood and ceramic pieces that work wonderfully with them.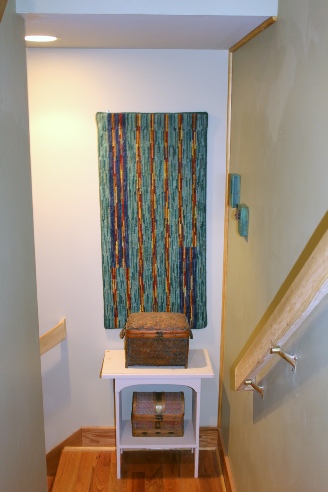 A second landing on this stairway gives a great view as you round the corner.
Look for all the nooks, crannies, or focal points in your home where art could add interest and delight the viewer. Have a great day.

MOTHER'S DAY--"OFF THE BEATEN PATH"
A Happy Mother's Day to all the moms out there! My day has been both enjoyable and busy. First was helping my husband set posts, as we are in the process of placing a 4 foot three-rail fence around the property. The photo below shows some of our work and, of course, I was inspired by the striped look.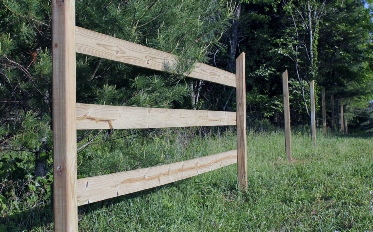 Next, I had the chance to use more tools when we installed a windbreak on one side of the front deck. We can now enjoy dinners on the deck without having our meal blown away!
After lunch, and with the heavy work done for the day, I pulled up a chair on the deck and relaxed enjoying the view. We are surrounded by a bevy of trees whose greenery dances in the mountain wind. These are much of the inspiration for my smaller works. Below is a view from the deck.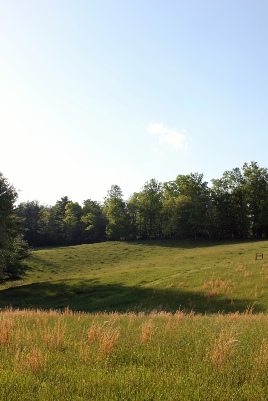 Earlier this week hooking on "Off the Beaten Path" was completed.
"Off the Beaten Path" Lori LaBerge 2011
Take your own trip off the beaten path this week and have a great day!

HOOKING DONE, A WEEK OF FINISHING
I often hook multiple pieces and finish them all at one time. That means this past week was "finishing week". I rounded up my yarn, needles, scissors, cording and a nice cold soda. It was then time to move out to the front deck where the view made work more than enjoyable.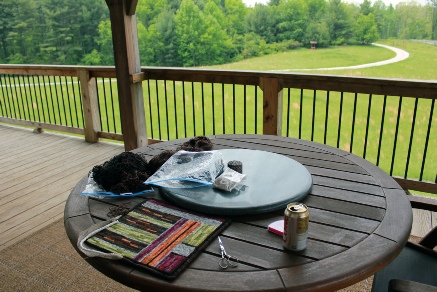 In the shot below you can see how the edge of the linen is stitched. The cording is set against the edging and the yarn is whipped by hand around the cording and linen edge for a clean finish.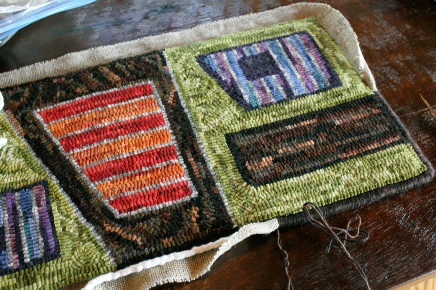 The yarn below was purchased at Yummi Yarns in Burnsville, NC. I love this shop (just gotta love the name!) as they have so many textures and colors to choose from. If a yarn is not found that matches well, I dye my own.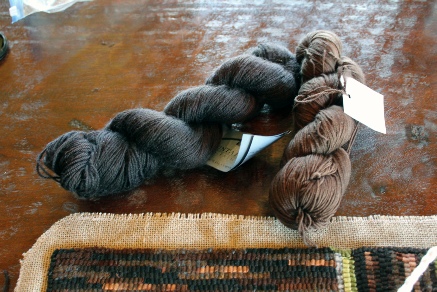 A close-up of edges completed.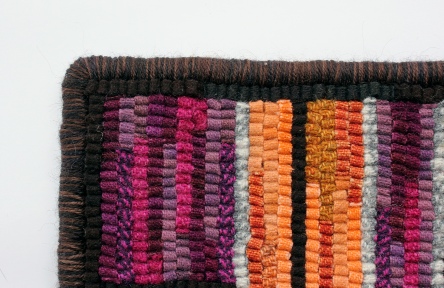 And, finally, one of the completed works whipped with yarn this week.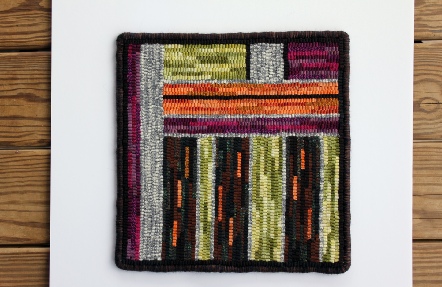 I was in an airport restroom between flights in April and heard the cleaning lady singing away. I told her it sounded like someone was in a good mood and she said with a big smile "It's not the job, it's how you approach it." She was so right.
Make yourself comfortable, take a positive attitude and have a great day!

STUDIO TOUR PREPARATION STARTED
The Toe River Arts Council Studio Tour is rapidly approaching. The public is welcome to tour artist studios on Friday, June 10 from 12-4 pm, Saturday, June 11 from 10 am - 6 pm and Sunday, June 12 from 10 am - 6 pm. One of my first steps in preparing for this is to make sure I have some smaller pieces available along with larger wall pieces. This week was devoted to hooking and edge whipping some drink coasters.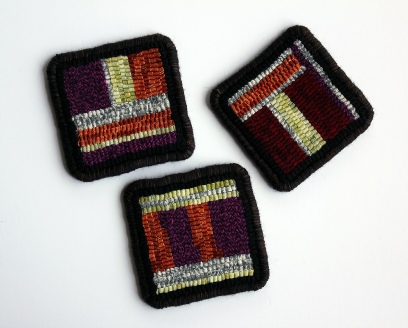 Drink coasters Lori LaBerge 2011
The coasters measure 4 1/2" X 4 1/2". They are contemporary and colorful in design, following the theme of the larger striped series I have been working on.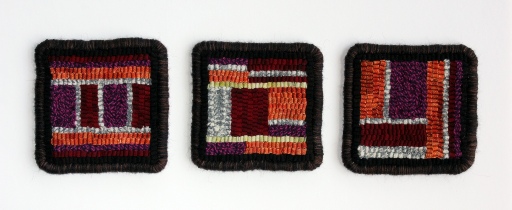 Drink coasters Lori LaBerge 2011
They look quite classy with a glass of wine! You could also pair them with one of the many mugs made by local potters in the area and have a wonderful set for a gift or for yourself.

MORE FINISHING WORK
The time put into finishing can often be more than the actual hooking. This often depends on the size of the piece and the type of finishing. This week was spent in the following way: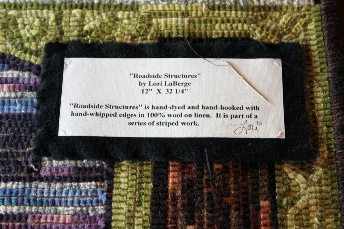 Writing, printing, stitching and signing fabric labels which are attached to the back of the pieces.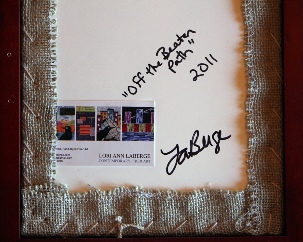 Stitching the pieces to foam board for placement in frames, placing business card and signing and dating piece with title and artist signature.
And cutting foam board and mat board, glazing and placing backing paper, wiring, placing D-rings and bumpers (to protect walls) on back of the pieces and finally signing the backing paper. All to reach the result below. (Please excuse the glare as the photo was taken with glass over it.)
Next time you see a piece of craft or art take a close look and try to imagine all the work and care that is put in before and after the actual development of the work itself . Have a great day.