IN THE STUDIO AND ELSEWHERE
COPYRIGHT
© 2011 Lori Ann LaBerge. All rights reserved. Unless noted, all artwork, photos and text are copyrighted by the artist. Images may not be reproduced, manipulated or used in any way without the written permission of the artist.
CONTACT
If you would like to send me a comment or have any questions, please e-mail me at lorilaberge@gmail.com. Thank you and I look forward to hearing from you.
CURRENT PROJECTS
I will be starting a new mixed media series based on the nomadic experience with a focus on rug motifs and migration. Sketches are in progress.
LINKS
Carolina Designer Craftsmen Guild
Studio Items I Love
Work and Play–Christmas Party
Nomadic Series Begins
"Southern Flight" and Mixed Media
Carolina Designer Craftsmen 2011
Show Packing and "Woodland Tango"
Architectural Salvage
Carolina Designer Craftsmen Show
Landscapes with Barns
Back to Small Landscapes
Exhibit Set-Up in Gallery
Show Preparation Part III - Packing
Audience Participation
Exhibition Booklet, Platform Building
N.C. Arts Incubator in Siler City
Show Preparation Part II
Show Preparation Part I
"Stacked" Completed, "Lakehouse" Juried In
"Stacked" Continued
Floor Runner "Stacked" in Progress
View Inspires "Sunset in Rose"
Exhibit Postcard and Tiffany
Mixed Media Rug Hooking
"Birches II" and Robert Frost
"Lakeside Completed, Weekend Off!
Road Trip Photo Inspiration
"Walking the Tracks" Completed
Inspiration on Cades Cove Trip
Walkthrough of Studio Tour
Studio Tour Exhibit at TRAC
More Finishing Work
Studio Tour Preparation Started
Hooking Done, A Week of Finishing
Mother's Day–Off the Beaten Path
Decorating with Hooked Art
A Week of Hooking and Painting
The Isabella Stewart Gardner Museum
Birches and My Stripe Obsession
Architectural Pieces Delivered
"Walking the Tracks" in progress
Blue Mountains in Spring
Georgia O'Keeffe on the Nightstand
A Scale Model of Future Exhibit
Texture: Combining Yarn and Wool
Using Photographs as Inspiration
Modern Rugs, Traditional Techniques
Fiber in the Family
Shuttle, Spindle & Dyepot Magazine






FLOOR RUNNER "STACKED" IN PROGRESS
I'm working on the last piece for my October solo exhibit at TRAC in Burnsville. There is still quite a bit of finishing work to do, but this will be the last of the hooking. It is a floor runner and will measure approximately 20" by 50" at completion.
VIEW INSPIRES "SUNSET IN ROSE"
We have absolutely beautiful sunsets here in the mountains. There is nothing quite as pleasurable as kicking back, relaxing on the deck and admiring the colors of the sky. There are purples, pinks, reds, yellows and oranges against a beautiful blue background. For "Sunset in Rose" I focused on reds and pinks and made them eye-catching by placing them against a dark brown background.

"Sunset in Rose" Lori LaBerge 2011
Scottish poet James Montgomery wrote --
"Dipp'd in the hues of sunset, wreath'd in zones,
The clouds are resting on their mountain-thrones;
One peak alone exalts its glacier crest,
A golden paradise, above the rest;
Thither the day with lingering steps retires,
And in its own blue element expires"
I love poetry and Montgomery's words seem to fit the view we are lucky enough to have most every evening.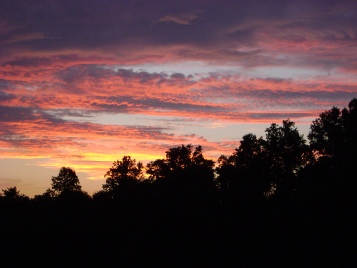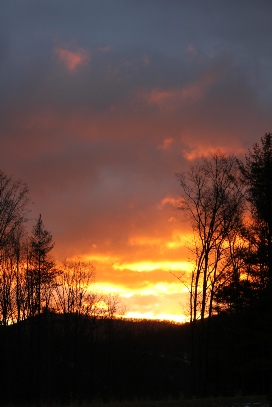 Sunsets acknowledge the end of the day and are a great time to sit and think about what we would like to accomplish tomorrow. View a beautiful sunset, think about what you would like to accomplish (the small things count here), and have a great day!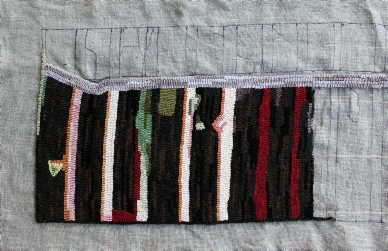 "Stacked", on linen in progress, Lori LaBerge 2011
"Stacked" will be the centerpiece of the exhibit and will be placed in the center of the exhibit floor on a large pedestal set from 10" to 18" off the ground. The other pieces in the exhibit have stripes set straight and following the grain of the linen backing. I wanted one piece with the stripes off a bit and thought the floor piece would be perfect for this idea.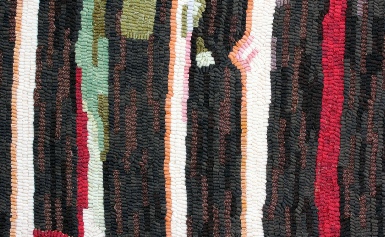 "Stacked", close-up, Lori LaBerge 2011
The piece is derived from a photo of the local lumberyard where stacks and stacks of wood are piled high. It's funny how some things you pass by almost everyday end up being great inspirations for a piece. This was wonderful for an abstract work.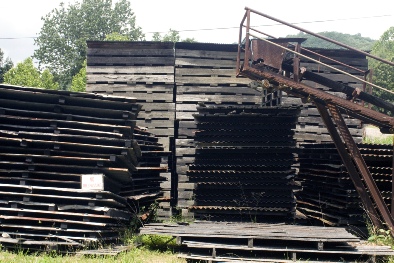 Find something you see frequently, look at it in a different way and have a great day!

"STACKED" CONTINUED
"Stacked" is coming along nicely. In a search of the studio for shades of orange, I found I needed to hit the dye pots. I wanted slightly deeper shades of the orange and rose/orange already in the rug to put opposite the brown stripes.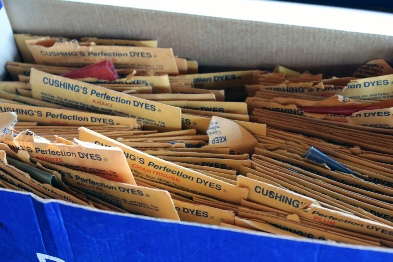 As stuffed as this dye box is, I just cannot bring myself to replace it. It is kind of like a favorite old pair of jeans to me.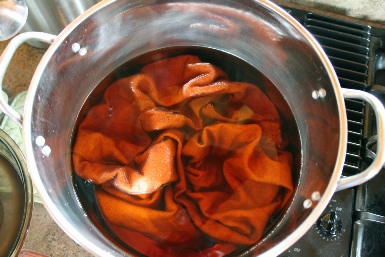 Wool, dye and vinegar simmering away on the stovetop.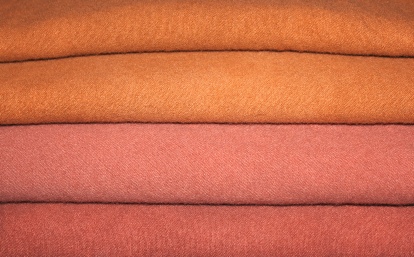 Beautiful colors washed, dried and waiting to be cut into strips.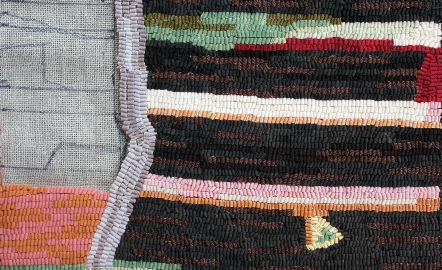 The dyed wool hooked into the rug on lower left.
Close-up of how the colors look together.
If all goes as planned, I should have the hooking finished next week. I do not recall ever finishing a 20 x 50 rug this quickly before. When done, I'm going to enjoy a glass of wine and a good book.
Reward yourself for your accomplishments this week and have a great day!

"STACKED" COMPLETED, "LAKEHOUSE" JURIED IN
The hooking was completed on "Stacked" yesterday. As planned, I enjoyed a glass of Pinot Grigio and a good book after the last loop was hooked. There is still quite a bit of finishing work to do as five pieces for the October show still need to be whipped, labeled and framed. I really enjoyed working on a floor piece and have other contemporary designs drawn out in a similar size.

"Stacked" 20½" X 49" Lori LaBerge 2011
"Lakehouse" was juried into "Pushing the Limits: New Expressions in Hooked Art 2011". The group sponsoring this, "Newtown Hooked Art Shows", focuses on publicity and exposure of contemporary hooked fiber art. A CD of the work is made and distributed to museums and venues for shows.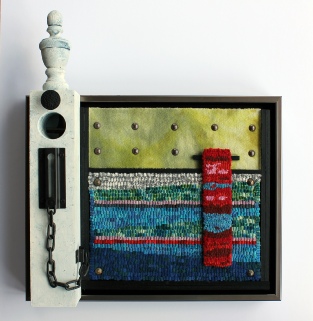 "Lakehouse" Lori LaBerge 2011
An interesting aspect of this show was receiving juror feedback. Comments were "Jurors liked the contrast of the metal with the textile. Makes you think "What is the artist trying to say?" Beautifully executed. Like interactive quality. Like that the dyed piece of wool on top looks like metal from a distance." It is always interesting to hear how others view your work. I did not think of the wool on top looking like metal, so I'm now looking at the piece in a new way.
Entering this show was exciting as it gave me a chance to focus on some mixed media ideas I had been playing around with. I have some other ideas to develop and look forward to planning them out and seeing how they come together.
Push your own limits and have a great day!