IN THE STUDIO AND ELSEWHERE
COPYRIGHT
© 2011 Lori Ann LaBerge. All rights reserved. Unless noted, all artwork, photos and text are copyrighted by the artist. Images may not be reproduced, manipulated or used in any way without the written permission of the artist.
CONTACT
If you would like to send me a comment or have any questions, please e-mail me at lorilaberge@gmail.com. Thank you and I look forward to hearing from you.
CURRENT PROJECTS
I will be starting a new mixed media series based on the nomadic experience with a focus on rug motifs and migration. Sketches are in progress.
LINKS
Carolina Designer Craftsmen Guild
Studio Items I Love
Work and Play–Christmas Party
Nomadic Series Begins
"Southern Flight" and Mixed Media
Carolina Designer Craftsmen 2011
Show Packing and "Woodland Tango"
Architectural Salvage
Carolina Designer Craftsmen Show
Landscapes with Barns
Back to Small Landscapes
Exhibit Set-Up in Gallery
Show Preparation Part III - Packing
Audience Participation
Exhibition Booklet, Platform Building
N.C. Arts Incubator in Siler City
Show Preparation Part II
Show Preparation Part I
"Stacked" Completed, "Lakehouse" Juried In
"Stacked" Continued
Floor Runner "Stacked" in Progress
View Inspires "Sunset in Rose"
Exhibit Postcard and Tiffany
Mixed Media Rug Hooking
"Birches II" and Robert Frost
"Lakeside Completed, Weekend Off!
Road Trip Photo Inspiration
"Walking the Tracks" Completed
Inspiration on Cades Cove Trip
Walkthrough of Studio Tour
Studio Tour Exhibit at TRAC
More Finishing Work
Studio Tour Preparation Started
Hooking Done, A Week of Finishing
Mother's Day–Off the Beaten Path
Decorating with Hooked Art
A Week of Hooking and Painting
The Isabella Stewart Gardner Museum
Birches and My Stripe Obsession
Architectural Pieces Delivered
"Walking the Tracks" in progress
Blue Mountains in Spring
Georgia O'Keeffe on the Nightstand
A Scale Model of Future Exhibit
Texture: Combining Yarn and Wool
Using Photographs as Inspiration
Modern Rugs, Traditional Techniques
Fiber in the Family
Shuttle, Spindle & Dyepot Magazine






STUDIO TOUR EXHIBIT AT TRAC
The Toe River Arts Council, (TRAC), located in downtown Spruce Pine, North Carolina has a wonderful exhibit of the work of artists on the Toe River Studio Tour. The show will last through June 12.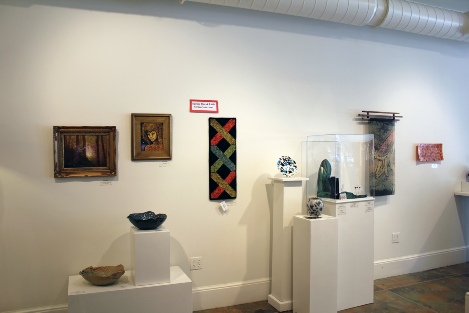 "X Marks the Spot" is at the center of the photo.
The artist reception is being held on June 10 from 5-7 p.m.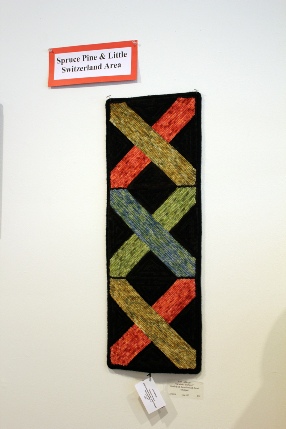 "X Marks the Spot" Lori LaBerge
Close-up below.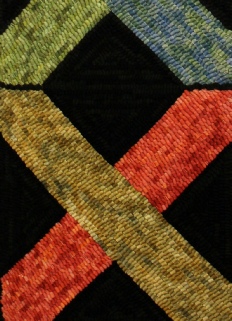 The tour is held twice a year and allows the public to view studios and visit with local artists. The hours this year will be June 10 from 12-4, June 11 from 10-6 and June 12 from 10-6. Pick up your brochure at the TRAC gallery in Burnsville or Spruce Pine, the Mitchell or Yancey Chambers of Commerce, or an artist studio. Signs will be placed around the area leading viewers to artist studios. Make a day of it, follow a tour sign and have a great day!
WALKTHROUGH OF STUDIO TOUR
The weather could not have been better for the Artist Studio Tour hosted by the Toe River Arts Council. I met people from all over including North Carolina, South Carolina, Tennessee, Kentucky, Florida and even Germany! They were art collectors, quilters, glass blowers, pottery makers, vacationers, and puppeteers. So many interests leading to great conversations about art and the North Carolina mountains. For those who visited, thank you so much for your compliments and purchases. I hope you enjoy your new pieces for years to come. For those who missed it, here are some pictures of how the studio looked for the tour.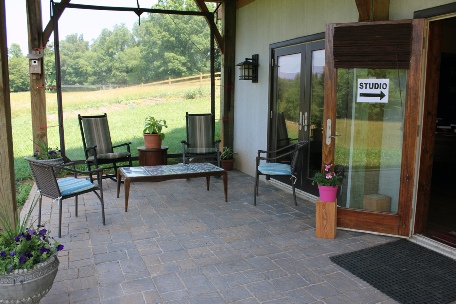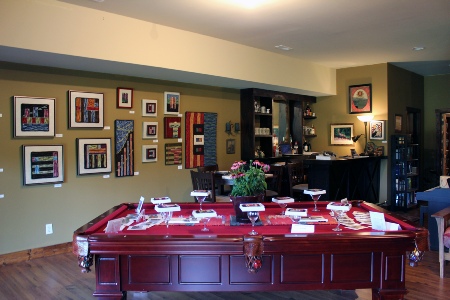 As you walk in. Yes, this is the game room and bar converted to showroom for the tour.
Crows and stripes filled the walls.
The pool table was covered with contemporary coasters and decorated with flowers.
A frame was set up for demonstrations and for visitors to try their hand at rug hooking.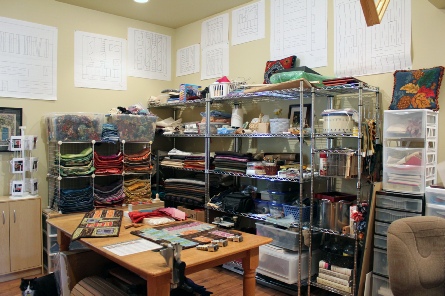 The workroom of the studio was neat and clean for a change!
T.C. helped out with sales and handing out brochures. He certainly enjoyed the attention.
A big thank you again to all who attended. I hope you had a wonderful time touring all the local studios and visiting with the artist community. Put a little art in your life and have a great day!

INSPIRATION ON CADES COVE TRIP
We drove over to Cades Cove in Tennessee for my husband's birthday. It was a wonderful place to draw inspiration for future striped pieces. The wood on all the old buildings was amazing!
Great lines on the door and siding of the blacksmith building.
Wood siding worn away at ground level.
Horizontal, diagonal and vertical lines make this barn just plain great!
The combination of the top of this flume and its support lead to a variety of future design options.
An old rusted metal hinge adds interest to this building.
With uneven wood edges, this screams pure fun for design possiblities!
A look through the opening of an old storage area creates an eerie feeling.
We had a wonderful time exploring the history, buildings and wilderness of Cades Cove. Enjoy your side trips and have a great day!

"WALKING THE TRACKS" COMPLETED
After quite a bit of finishing work on other pieces, I was finally able to return to "Walking the Tracks". A photo of it while in process was shown in a March blog here. I had sketched out the idea and scanned it into the computer to try out different color schemes with my favorite shown below.
If you looked at the March blog mentioned above, you can see the orientation has changed. This happens during the hooking process when it is decided one orientation has a better feel to it than the original plan. Part of the fun is the changes which happen along the way. This is the completed piece.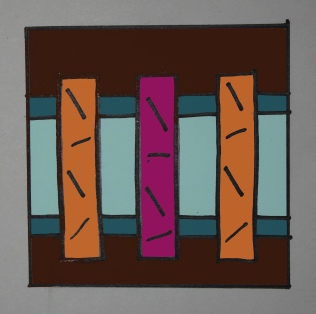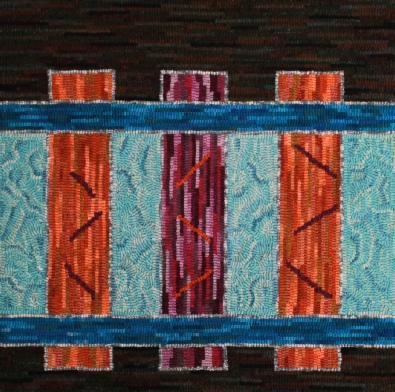 "Walking the Tracks" Lori LaBerge 2011
I really like the vertical look better than the horizontal one. It gives a different perspective and allows for more thought, though the horizontal seems to invite the viewer to "walk the tracks". The placement may change before the piece is mounted. Here is the side by side view.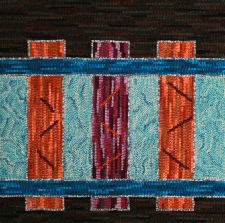 While steaming this piece to set the loops, I was reminded once again how important the simple things are. I have an old iron and set of towels I use for steaming. These were both given to me after the death of my mother-in-law. Though she did not have a lot of interest in art, I somehow feel she is a part of each piece I steam with tools she had used in her daily life.
Think about and enjoy the simple things that have sentimental value to you and have a great day!