IN THE STUDIO AND ELSEWHERE
COPYRIGHT
© 2011 Lori Ann LaBerge. All rights reserved. Unless noted, all artwork, photos and text are copyrighted by the artist. Images may not be reproduced, manipulated or used in any way without the written permission of the artist.
CONTACT
If you would like to send me a comment or have any questions, please e-mail me at lorilaberge@gmail.com. Thank you and I look forward to hearing from you.
CURRENT PROJECTS
I will be starting a new mixed media series based on the nomadic experience with a focus on rug motifs and migration. Sketches are in progress.
LINKS
Carolina Designer Craftsmen Guild
Studio Items I Love
Work and Play–Christmas Party
Nomadic Series Begins
"Southern Flight" and Mixed Media
Carolina Designer Craftsmen 2011
Show Packing and "Woodland Tango"
Architectural Salvage
Carolina Designer Craftsmen Show
Landscapes with Barns
Back to Small Landscapes
Exhibit Set-Up in Gallery
Show Preparation Part III - Packing
Audience Participation
Exhibition Booklet, Platform Building
N.C. Arts Incubator in Siler City
Show Preparation Part II
Show Preparation Part I
"Stacked" Completed, "Lakehouse" Juried In
"Stacked" Continued
Floor Runner "Stacked" in Progress
View Inspires "Sunset in Rose"
Exhibit Postcard and Tiffany
Mixed Media Rug Hooking
"Birches II" and Robert Frost
"Lakeside Completed, Weekend Off!
Road Trip Photo Inspiration
"Walking the Tracks" Completed
Inspiration on Cades Cove Trip
Walkthrough of Studio Tour
Studio Tour Exhibit at TRAC
More Finishing Work
Studio Tour Preparation Started
Hooking Done, A Week of Finishing
Mother's Day–Off the Beaten Path
Decorating with Hooked Art
A Week of Hooking and Painting
The Isabella Stewart Gardner Museum
Birches and My Stripe Obsession
Architectural Pieces Delivered
"Walking the Tracks" in progress
Blue Mountains in Spring
Georgia O'Keeffe on the Nightstand
A Scale Model of Future Exhibit
Texture: Combining Yarn and Wool
Using Photographs as Inspiration
Modern Rugs, Traditional Techniques
Fiber in the Family
Shuttle, Spindle & Dyepot Magazine






ROAD TRIP PHOTO INSPIRATION
My husband and I enjoyed a two day trip to Wilmington to attend a wedding this past week. We visited with friends, ate great food, listened to wonderful music and wished the wedding couple our best. All too soon, it was time to head home. The drive was relaxing with plenty of time to snap photos of lines, stripes and the old factories of Albemarle, NC along the way.
The wires holding these traffic lights have great lines.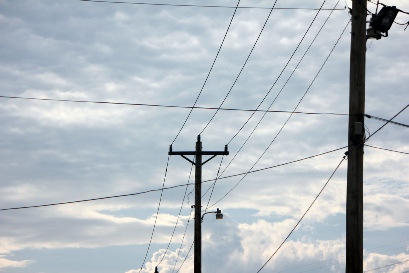 Verticals, horizontals, and diagonals. Oh,my!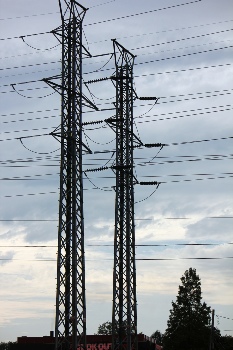 Love these towers situated among power lines.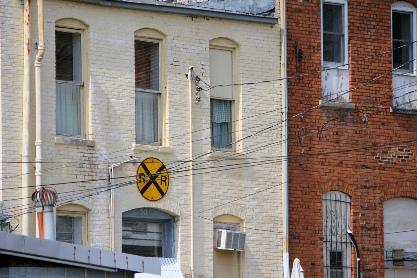 The railroad sign adds to the interest of these buildings in Albemarle.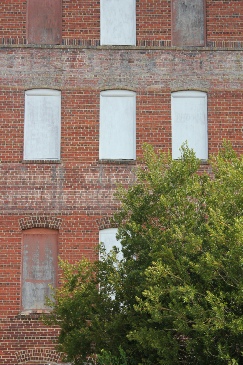 I love the way some of these windows have white boards and others red.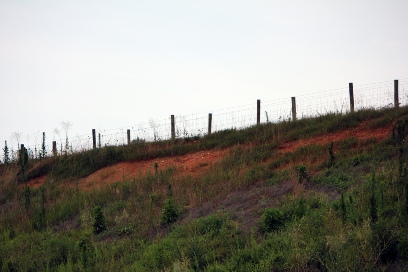 A beautiful hillside view of an old country fence. Great lines.
I was certainly in my happy place with ideas for rug designs bouncing around in my head all the way home. Take time to find what makes you happy and have a great day!

"LAKEWOOD" COMPLETED, WEEKEND OFF!
There is something about water that is so calming. I seem to forget all my worries when near it and focus on experiencing the sights, smells and sounds surrounding me. The same feeling hits me with this piece. I find myself enjoying it over and over again and knowing it will be hard to part with. The colors, derived from a local lake area, really work for me.

"Lakewood" Lori LaBerge 2011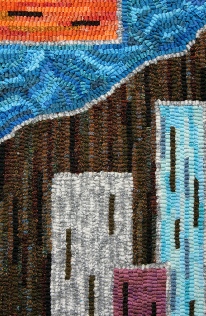 "Lakewood" close-up Lori LaBerge 2011
I was lucky to be able to take some time off and enjoy the weekend. What did I do? I hooked, of course! Hooking for shows and galleries takes up most of my time, but this weekend was for experimenting. Mixed media and acrylic painting are quickly becoming new pursuits and bringing more art into my life.
The start of a mixed media piece still in construction stage is below.
"Riverhouse" mixed-media in progress Lori LaBerge 2011
Enjoy your weekends experiencing new things that interest you and have a great day!

"BIRCHES II" AND ROBERT FROST
Birches are such beautiful trees. Their bark peels back as if almost rolling off the tree. This week I completed the second in a striped birch series. The first was completed in May. The two are shown side by side below.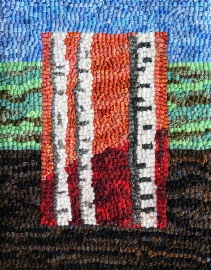 "Birches" Lori LaBerge 2011
"Birches II" Lori LaBerge 2011
As I hooked I thought of the poem "Birches" by Robert Frost. Frost uses imagination and reality in this poem. He imagines how the birches were bent over and lowered toward the ground by children happily sliding down the trees, while in reality he knew an ice storm was the cause of the trees bending. Imagination and reality constantly blend in the art studio. While I know and love the colors of nature, more often than not my work exaggerates them. In my imagination things are always brighter than they appear in reality.
"Birches II" close-up Lori LaBerge 2011
People often combine imagination and reality. We often look at the clouds in the sky and imagine they are things they are not. Enjoy exercising your imagination and have a great day!

"MIXED MEDIA RUG HOOKING"
"Lakehouse" was completed this weekend. The idea for this project developed from rides taken along various lakes in Western North Carolina and Tennessee. Many of these lakes had fantastic homes alongside them and this piece is my interpretation of the joy of owning a lakeside home.
"Lakehouse" Lori LaBerge 2011
I had the chance to use hammers, drills, screwdrivers and other tools not usually used in the rug hooking trade, with the exception of frame work. Materials used included linen, hand-dyed wool both cut and plain, tacks, wood, paint, magazine cuttings, a metal hinge and a metal cabinet knob.
"Lakehouse" close-up Lori LaBerge 2011
It was great fun combining rug hooking with a mixed media work and I plan on pursuing it further. Combine some new ideas to those things you already love in life and have a great day.

Exhibit Postcard and Tiffany
This week the postcards ordered for my Oct. 14 - Nov. 12 exhibit at the Burnsville gallery of the Toe River Arts Council arrived via FedEx. The jaunt out of the house to the Fed Ex truck is always a joy for our dog, Sydney, as the driver always gives her a treat, or two, or three. Such a lucky dog! I was pleased with the design my daughter and I worked on for the card and hope the gallery will like it.
My husband and I took a trip over to the Biltmore Estate to see the Tiffany exhibit which is running through October 23rd. Actually, we enjoyed it so much we went twice and, since we have yearly passes to the Estate, may go again. A dinner at Cedric's Tavern on the Estate is a great incentive.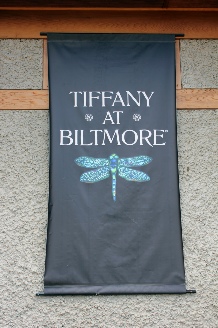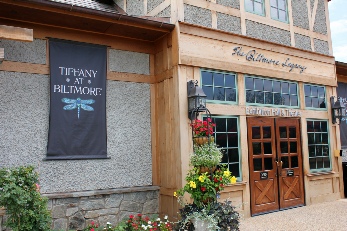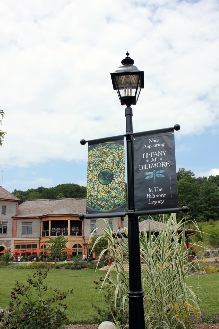 The lamps are works of art. The design and execution of the lamps from head to toe are a joy to behold. It was interesting to see the same design done in different colors. It reminded me of how different the same rug can look when the color plans differ.
Since photos were not allowed, I purchased the postcard book below. You can see photos of the pieces in the exhibit at the Neustadt Collection website here.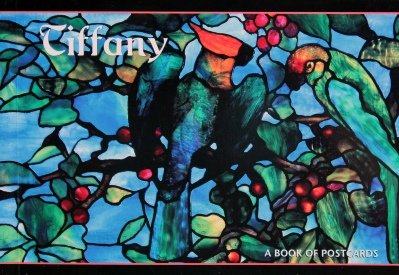 Explore some exhibits in your area and have a great day!