IN THE STUDIO AND ELSEWHERE
COPYRIGHT
© 2011 Lori Ann LaBerge. All rights reserved. Unless noted, all artwork, photos and text are copyrighted by the artist. Images may not be reproduced, manipulated or used in any way without the written permission of the artist.
CONTACT
If you would like to send me a comment or have any questions, please e-mail me at lorilaberge@gmail.com. Thank you and I look forward to hearing from you.
CURRENT PROJECTS
I will be starting a new mixed media series based on the nomadic experience with a focus on rug motifs and migration. Sketches are in progress.
LINKS
Carolina Designer Craftsmen Guild
Studio Items I Love
Work and Play–Christmas Party
Nomadic Series Begins
"Southern Flight" and Mixed Media
Carolina Designer Craftsmen 2011
Show Packing and "Woodland Tango"
Architectural Salvage
Carolina Designer Craftsmen Show
Landscapes with Barns
Back to Small Landscapes
Exhibit Set-Up in Gallery
Show Preparation Part III - Packing
Audience Participation
Exhibition Booklet, Platform Building
N.C. Arts Incubator in Siler City
Show Preparation Part II
Show Preparation Part I
"Stacked" Completed, "Lakehouse" Juried In
"Stacked" Continued
Floor Runner "Stacked" in Progress
View Inspires "Sunset in Rose"
Exhibit Postcard and Tiffany
Mixed Media Rug Hooking
"Birches II" and Robert Frost
"Lakeside Completed, Weekend Off!
Road Trip Photo Inspiration
"Walking the Tracks" Completed
Inspiration on Cades Cove Trip
Walkthrough of Studio Tour
Studio Tour Exhibit at TRAC
More Finishing Work
Studio Tour Preparation Started
Hooking Done, A Week of Finishing
Mother's Day–Off the Beaten Path
Decorating with Hooked Art
A Week of Hooking and Painting
The Isabella Stewart Gardner Museum
Birches and My Stripe Obsession
Architectural Pieces Delivered
"Walking the Tracks" in progress
Blue Mountains in Spring
Georgia O'Keeffe on the Nightstand
A Scale Model of Future Exhibit
Texture: Combining Yarn and Wool
Using Photographs as Inspiration
Modern Rugs, Traditional Techniques
Fiber in the Family
Shuttle, Spindle & Dyepot Magazine






"SOUTHERN FLIGHT" MIXED MEDIA
I've recovered from shows and am back to work. A box of odds and ends, extra wool strips and cans of paint was pulled out of a corner in the studio. The concept was to incorporate rug hooking with other media, which can be both fun and challenging. Placing pieces to come up with a design is the fun part, but the construction takes me a little bit out of my comfort zone. Attention must be paid to the order in which items are placed and how they are attached to make the piece work as a whole.
The first step after deciding on mixed media was to develop a theme for the work. It is the time of year birds are passing through the area on their way from the cold of New England to the warmth of the South. Watching the birds fly through led to the idea of bird migration. Below is the result and some process photos.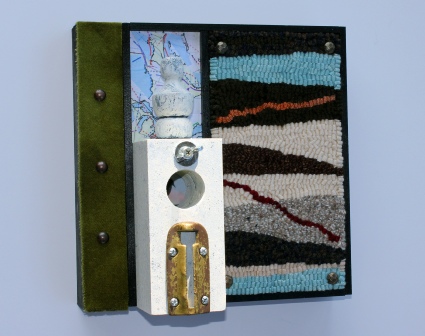 "Southern Flight" 10 X 10 Lori LaBerge 2011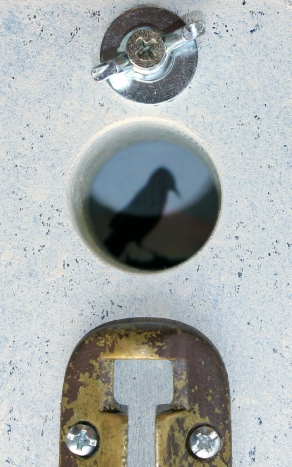 This close-up shows the mix of new and old metal in the piece. Through the hole that was punched in the wood is a photo of a crow, which I took when we were on vacation in Charleston, SC.
A close-up of the hooking portion shows I have stuck with my stripe motif. The orange and red portray the routes taken by the birds while the turquoise/white and oatmeal/brown refer to sky and ground. I love the look of the hardness of the metal tacks against the softness of the wool.
Take yourself out of your comfort zone occasionally, see where it leads you and have a great day!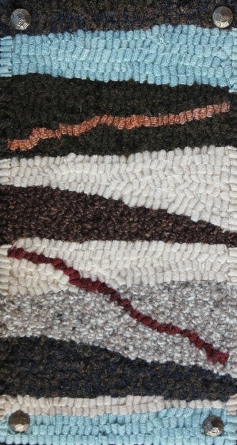 NOMADIC SERIES BEGINS
I just can't stay away from rug books. Two of the latest that interest me are "Kilim Rugs: Tribal Tales in Wool" by Susan Gomersall and "Tribal and Village Rugs: The Definitive Guide to Design, Pattern & Motif" by Peter F. Stone.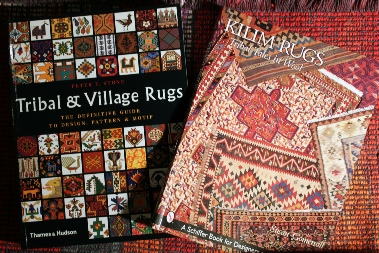 Lately, I've become fascinated with nomadic culture. Many of the tribal rugs produced by nomads are colorful, intriguing and contain motifs with meaning. Parapatetic nomads are a group that travel for work purposes offering services of a craft or trade. This interests me for two reasons. First, we live in a society where, in many cases, family members live at a distance from each other, moving to areas where work is available. Second, many of today's craftspeople are nomads of a sort, traveling from show to show throughout the year selling their handmade crafts.
In the nomadic series, I will be creating my own designs influenced by readings of nomadic life and culture as well as the idea of traveling and separation of family to find work.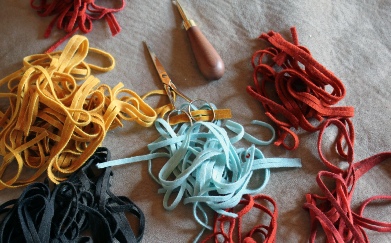 Wool cut into strips. A color palette of yellow, orange, red, bright burgundy, turquoise and dark brown was chosen.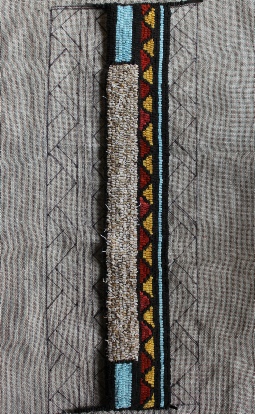 Full view of "The Road Home" in progress.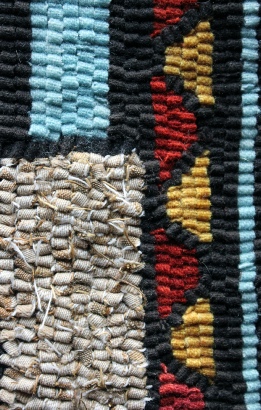 Close-up view in progress. The fabric on the bottom left is upholstery fabric hooked with the threads left hanging to create more texture in the piece.
It's always exciting to start a new series of work. Enjoy starting something new with your work or hobby, be amazed at what you learn and have a great day!

WORK AND PLAY -- CHRISTMAS PARTY!
The beginning of the week was spent continuing work on "The Road Home". It is going well and I am thinking about the placement of some mixed media pieces for the center. I'm on the lookout for some old keys to fit the concept of places we move to becoming our new home. So far...

"The Road Home" in progress Lori LaBerge 2011
The end of the week was a chance to travel to the coast for a Christmas Party. Friends Clare and Jeff have a way of making my husband and I feel instantly like family. Jeff is a fantastic cook and always plans a great spread of amazing dishes.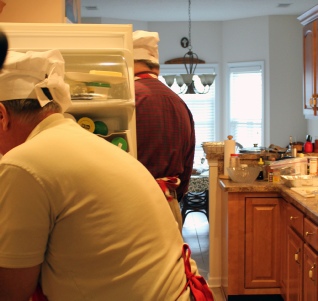 Chefs at work. Love the chef hats. These guys made everyone happy.
After dinner we spent time visiting and were delighted to be invited to view a collection of Christmas trees. Betsy, a neighbor of our friends, has a beautiful home and exquisite taste. She has decorated numerous trees throughout her home using a different theme for each tree. Here are a few photos.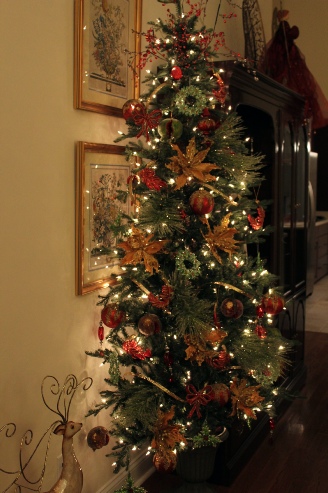 A stunning view upon entering the home.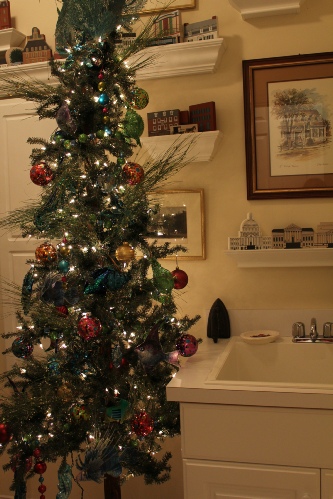 This would certainly make doing laundry a pleasure. I also noticed the old iron as many rug hookers use these to hold down backing fabric as they draw their designs on them.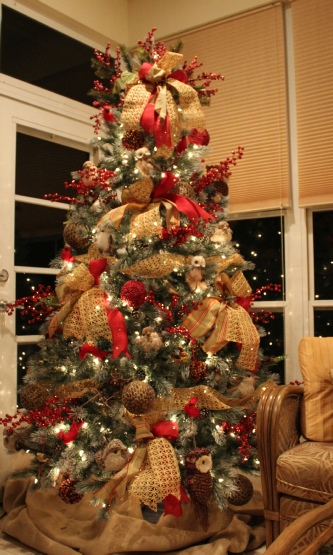 A woodland wonder. There are birds and owls among foliage in this tree. Beautiful.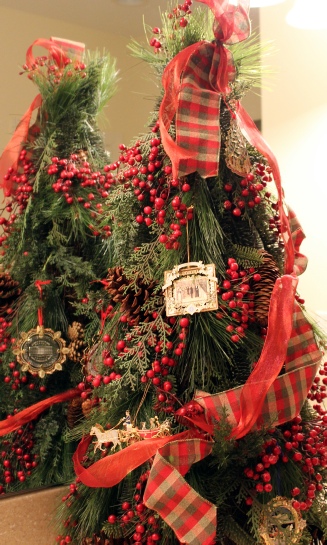 This tree was covered with White House ornaments. I love the way it shows against the mirror.
Take time to let those you care about know it, meet some new friends and spread some happiness to others. Have a great Christmas and Holiday season!
STUDIO ITEMS I LOVE
It is definitely the time of year to clean out the studio. At this point walking through it requires effort. Boxes from shows and fabric galore are covering almost every inch. In the process of cleaning, I noticed certain items that I love for pure function or for the memories. Here are a few:
I love items that remind me of others. This piece of pottery was given to me by my sister-in-law. I believe she meant me to use it in the kitchen, but it works so well to hold snippets (small pieces of wool which are snipped away while working). I am lucky enough to be reminded of her every time I snip or store wool in it as I work.

This shoe holder has been turned into a yarn holder and works perfectly. Yarn, both hand-dyed by myself and purchased, is easily at hand.

My husband has always supported my art and when the floorspace was getting taken over by frames he bought some padded hangers, placed them on the upper soffet and hung my frames for me. Great idea! Great husband!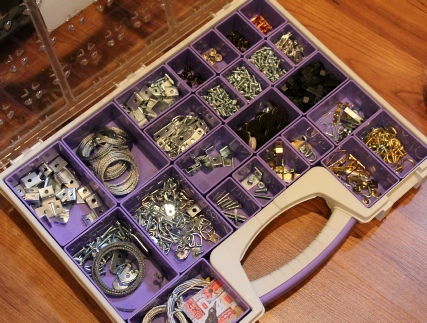 Tools of the trade. Love my off-set scissors and Hartman hook. The two hooks on the right are special as a friend's father made them. Great memories of time spent hooking together and visiting with her folks.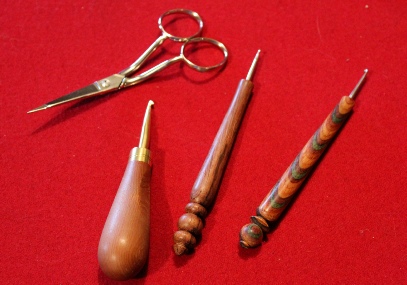 This little tool box has been great for organizing hanging and framing materials. Just grab the handle and I'm off to shows and exhibits with all I need.
These items and more make my studio a great place to hang out and work. Think about the things you love about your environment (functional or just plain fun!) enjoy them and have a great day!