IN THE STUDIO AND ELSEWHERE
COPYRIGHT
© 2011 Lori Ann LaBerge. All rights reserved. Unless noted, all artwork, photos and text are copyrighted by the artist. Images may not be reproduced, manipulated or used in any way without the written permission of the artist.
CONTACT
If you would like to send me a comment or have any questions, please e-mail me at lorilaberge@gmail.com. Thank you and I look forward to hearing from you.
CURRENT PROJECTS
I will be starting a new mixed media series based on the nomadic experience with a focus on rug motifs and migration. Sketches are in progress.
LINKS
Carolina Designer Craftsmen Guild
Studio Items I Love
Work and Play–Christmas Party
Nomadic Series Begins
"Southern Flight" and Mixed Media
Carolina Designer Craftsmen 2011
Show Packing and "Woodland Tango"
Architectural Salvage
Carolina Designer Craftsmen Show
Landscapes with Barns
Back to Small Landscapes
Exhibit Set-Up in Gallery
Show Preparation Part III - Packing
Audience Participation
Exhibition Booklet, Platform Building
N.C. Arts Incubator in Siler City
Show Preparation Part II
Show Preparation Part I
"Stacked" Completed, "Lakehouse" Juried In
"Stacked" Continued
Floor Runner "Stacked" in Progress
View Inspires "Sunset in Rose"
Exhibit Postcard and Tiffany
Mixed Media Rug Hooking
"Birches II" and Robert Frost
"Lakeside Completed, Weekend Off!
Road Trip Photo Inspiration
"Walking the Tracks" Completed
Inspiration on Cades Cove Trip
Walkthrough of Studio Tour
Studio Tour Exhibit at TRAC
More Finishing Work
Studio Tour Preparation Started
Hooking Done, A Week of Finishing
Mother's Day–Off the Beaten Path
Decorating with Hooked Art
A Week of Hooking and Painting
The Isabella Stewart Gardner Museum
Birches and My Stripe Obsession
Architectural Pieces Delivered
"Walking the Tracks" in progress
Blue Mountains in Spring
Georgia O'Keeffe on the Nightstand
A Scale Model of Future Exhibit
Texture: Combining Yarn and Wool
Using Photographs as Inspiration
Modern Rugs, Traditional Techniques
Fiber in the Family
Shuttle, Spindle & Dyepot Magazine






AUDIENCE PARTICIPATION
One idea I knew I wanted to pursue with my stripe show in October was to somehow have the viewers be able to interact with the art. It is one thing to go view art and another to really think about what you are viewing and be able to relate it to your life experience.
This week I have been working on placing a collage on artboard. The collage consists of local photos of stripes I've seen in rural North Carolina. The sides of the piece are painted and will have hangers. Tags will be available for viewers to write where they see stripes in their environment. They will then hang the tags onto the board. People will be able to view what other people have written on their tags.
Here is the process for creating the board: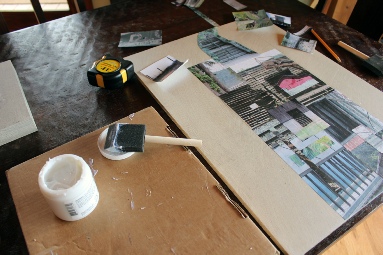 After photos were printed on the ink-jet printer, they were cut into various sizes and placed onto the center of the board.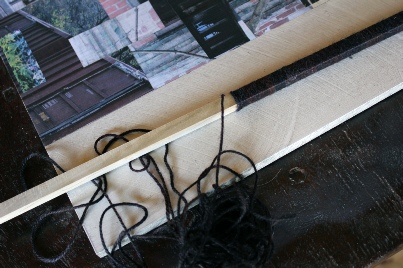 Square dowels were covered with a yarn containing various shades of dark brown and glued onto the artboard, separating the collage from the tag area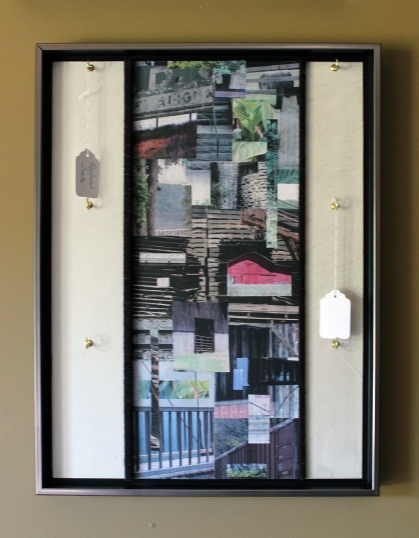 Hooks were added to the board and a few sample tags hung up.
I hope people will not only enjoy the work, but enjoy being a part of the exhibit. Invite people to experience part of your world and have a great day!

SHOW PREPARATION PART III - PACKING
The show is getting close and set-up is Wednesday, so I'm now in packing mode. The studio and downstairs is filled with boxes and bubble wrap. Everything has to be packed carefully to prevent damage to frames and artwork during transport to the gallery. Here's the past week:
Works lined up and ready for packing. There will be 18 pieces of art in the show.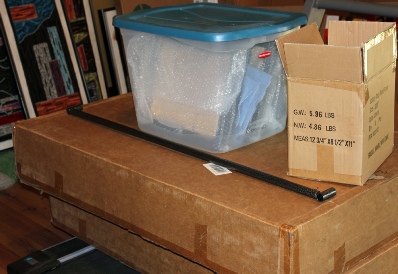 Some work packed and ready to be loaded into the truck and car.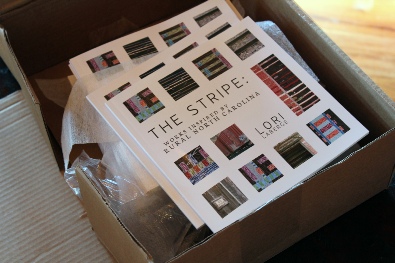 The final copies of the exhibition books arrived and look great.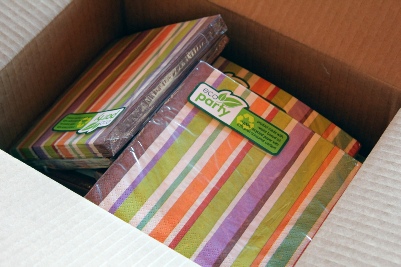 I ordered some really cool striped napkins for the food and wine table. I love them!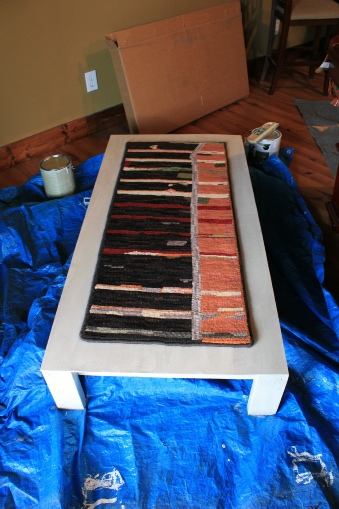 A final check on how the large rug will look on the platform, which was painted to match the artboards used for the framed works.
I really enjoy exhibits, but get nervous about moving pieces from one place to another. I bring all sorts of repair materials (paint, wires, screws, etc.) with me in case the unexpected happens. C'est la vie. Enjoy preparing for your activities and have a great day!
As a reminder, the show will be held at the Toe River Arts Council Gallery in Burnsville, NC. The opening will be Friday, October 14 from 5-7pm and the show will run through November 12. Please join us at the opening or go see the exhibit on your own. The staff at the gallery is always warm and friendly.
EXHIBIT SET-UP IN GALLERY
"The Stripe: Works Inspired by Rural North Carolina" was set up in the Toe River Arts Council Gallery in Burnsville on Tuesday and the opening reception was held on Friday. The show will run through November 12. All the measuring and the creation of a scale mock-up of the show made set-up a breeze.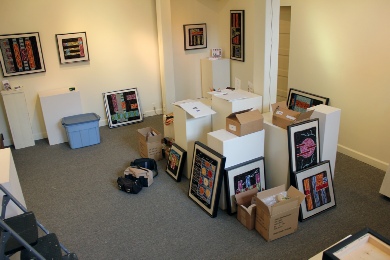 Pieces were placed in the middle of the room then placed against the walls where they would be hung.
Below is a look at the show. I had a great time at the reception with the opportunity to meet people from as far as Texas and Florida. The work was well received and conversation was wonderful, as those who attended were either well-versed or showed strong interest in learning various aspects of fiber art. We discussed color, texture, design and creativity among other topics.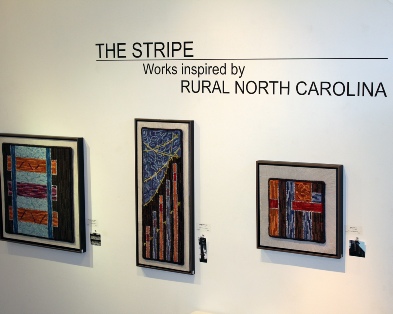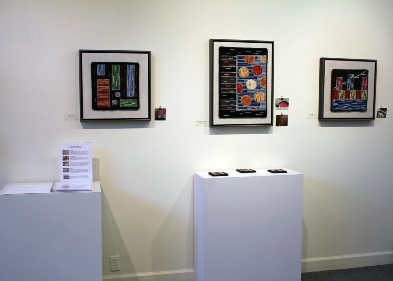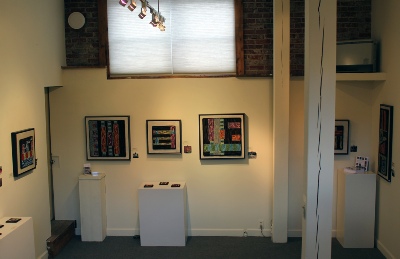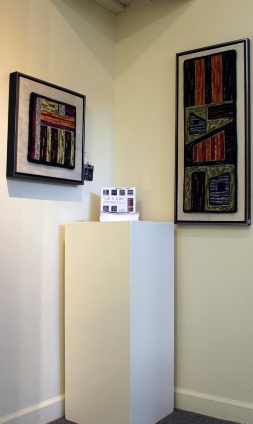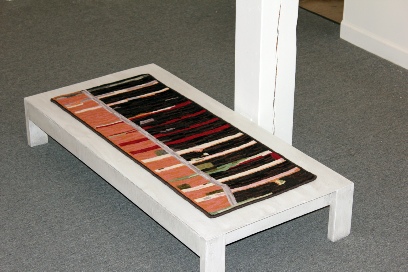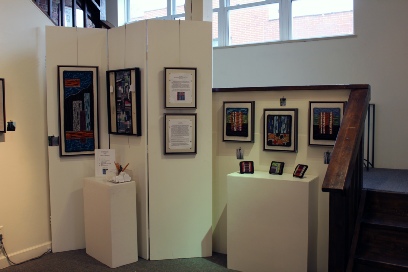 Take time to go out and enjoy some art shows near you this month and have a great day!

BACK TO SMALL LANDSCAPES
"The Stripe" show is now in full swing and it is time to start creating more small landscapes as the Carolina Designer Craftsmen show is just around the corner. The landscapes measure 8 X 10 when matted and framed. I love working on these and right now they are my best seller. I am constantly taking photos of trees and wooded areas searching for ideas.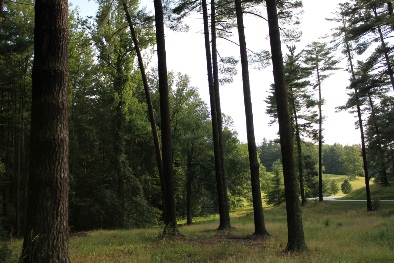 I love the way the trees on the right are leaning in toward the larger tree. The result of this is the work below, entitled "Three Against One".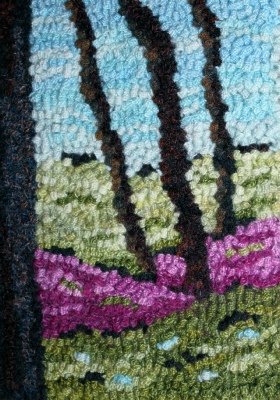 "Three Against One" Lori LaBerge 2011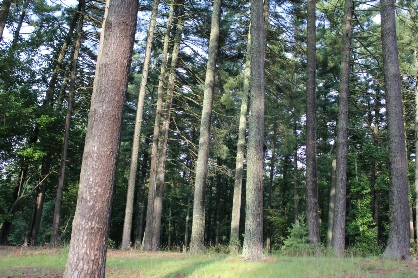 More liberty was taken with the piece derived from the above photo. I loved the tree layout, but wanted to include a path and lake in the piece. The result is "Lake Path in Autumn".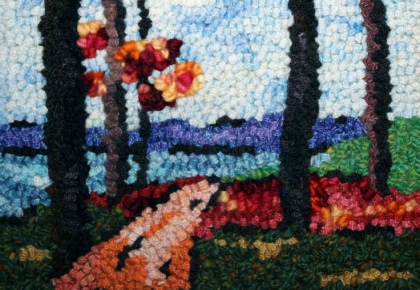 "Lake Path in Autumn" Lori LaBerge 2011
There seems to be plenty of inspiration in the mountain area and taking photos is always a great excuse to get out of the house and hit some back roads. Find a great excuse to get out and about and have a great week.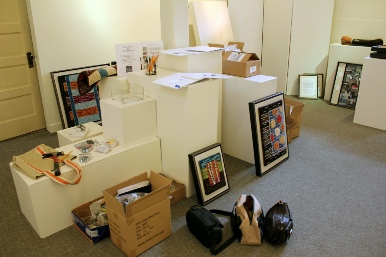 LANDSCAPES WITH BARNS
There has always been something about architecture that has attracted me. I love the lines, the variation of close placement in cities and isolation in country areas and the perfection of the new and the deterioration of the old.
Barns define a lifestyle. While farmers may view them as practical and useful, I see them as additions to the landscape. Whether still being used or not, barns tell us a story of past and present life lived on the property on which they sit. They are truly beautiful buildings and I am having a great time putting my interpretation on them for hooked pieces.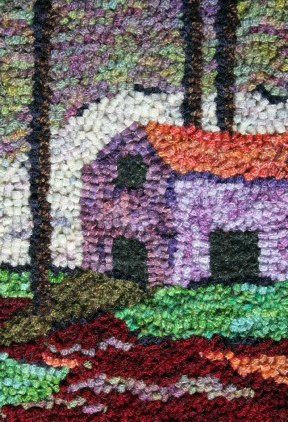 "Barn of a Different Color" Lori LaBerge 2011
"Hilltop Find" Lori LaBerge 2011
Enjoy a country ride sometime, research the structure and history of barns and have a great day!